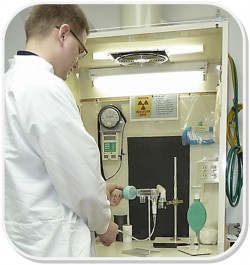 Testing Aerosol Delivery Devices
Medi/Nuclear® is a California corporation located in Los Angeles County. It is a premier manufacturer and supplier of highly acclaimed radioaerosol delivery systems, FDA approved for lung ventilation imaging in the USA. Medi/Nuclear® also carries the supplies and accessories needed to administer radioaerosol and xenon, and is a distributor of other fine products for nuclear departments. As a privately held, woman owned company, Medi/Nuclear® is well known for its outstanding product quality and phenomenal customer service.

Founded in 1973, Medi/Nuclear® has a rich history in the development of innovative diagnostic lung imaging systems.
1977: Medi/Nuclear® started routine sales of multi-dose vials of Xenon-133 to California hospitals, along with Medi/Nuclear's® proprietary Xeno-Cal™ Dose Calibrator which allowed single doses of Xe133 to be withdrawn from the vial.

1979: Production of the Xenon/Master® Patient Delivery System began. Groundbreaking features included pre-loading a patient dose into the system.
1987: Inspired by training done with renowned nuclear pioneers Dr. George Taplin and Dr. Raymond Libby, the Aero/Vent™ Plus Radioaerosol Delivery System was developed. It featured sub-micron particles with 97% being under 1 micron and 40.8% being less than 0.2 microns. With lung deposition and image quality dramatically improved, this was a breakthrough in radioaerosol delivery.

To enhance safety and further improve delivery, the Safety Shield™ Mouthpiece was introduced. It's scuba-style design reduced leakage from the corners of the mouth. The snap-on cap allowed the mouthpiece to be quickly sealed following removal and disposed of safely.
1998: The Insta/Vent™ was introduced. Using a conserving reservoir and internal flow control valve, it combined the fine particle distribution of the Aero/Vent™ with rapid delivery, that being approximately half the typical inhalation time.
2005: To support shallow breathers, the Insta/Vent™ Plus was created. This two-tube system featured unidirectional airflow which eliminated breathing resistance, allowed each breath to be fully medicated, and shortened dosing time even further.
2006: With remarkable results produced by the Insta/Vent™ Plus, a second tube was added to the Aero/Vent™ Plus system and named Aero/Vent™ Max.
During this time, the Aero/Vent™ Jr. joined the Aero/Vent™ family. As a more compact two-tube system, it could be pole mounted.
2007: For convenience, a complete kit made for ventilator dependent patients was introduced for Aero/Vent™ and Insta/Vent™ Radioaerosol Lung Imaging Systems.

Today, Medi/Nuclear's® lung imaging systems remain unsurpassed in efficiency and image quality, and exceptional customer service is still a priority. But don't take our word for it. Contact us for a free trial or to find a customer near you!