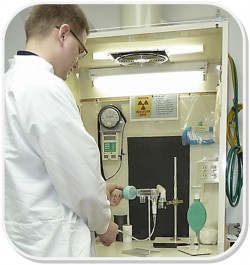 Testing Aerosol Delivery Devices
Medi/Nuclear® is proud to be a United States based, woman owned company. Established in 1973, it is an ISO 13485:2016 certified manufacturer and producer/distributor of high quality, FDA approved radioaerosol delivery systems and aerosol delivery supplies for use in hospitals, healthcare facilities, emergency response enterprises and research institutes.
Specializing exclusively in the production of ultra-fine particles and their delivery to the alveoli, Medi/Nuclear® is recognized for innovative aerosol delivery devices, the following industry breakthroughs, safety and outstanding customer service.
Neb 3A+ nebulizer to deliver ultra-fine particles with 97% being under 1 micron, and 40.8% being less than 0.2 microns. (Used on all radioaerosol delivery systems, aerosol drug delivery devices for systemic and deep lung treatments, and research applications.)
Unidirectional air flow to support shallow breathers by virtually eliminating breathing resistance, allowing each breath to be fully medicated, and maintaining an optimal particle size until inhalation.
Scuba style Safety Shield™ Mouthpiece, with protective cap, to reduce contamination by covering the corners of a patient's mouth or slipping from the mouth, and enhancing safety during mouthpiece removal and disposal.
Medi/Nuclear® produces its own products, as well as partnering with leading medical supply companies, and looks forward to working with you to safely and effectively deliver radioaerosol, Xenon, and aerosolized drugs. To learn more about Medi/Nuclear® click on the following links: