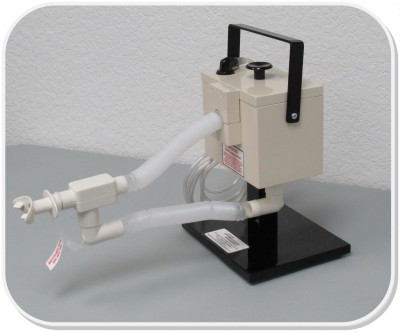 Aero/Vent Max Radioaerosol Delivery System #AV-500
Click here to download complete Aero/Vent™ Max information.
Aero/Vent™ Max Product Overview

The Aero/Vent™ Max Radioaerosol Administration System for ventilation lung imaging is an upgrade to the legendary single tube Aero/Vent™ Plus Radioaerosol Delivery System. Like the classic Aero/Vent™ Plus, the Aero/Vent™Max delivers ultra-fine particles for superior radiotracer distribution, resulting in spectacular images. Both easy-to-use systems combine drop-in kit convenience with maximum shielding and the scuba style Safety Shield™ Mouthpiece for unsurpassed protection.
The Aero/Vent™ Max features unidirectional air flow which allows fully medicated breaths for dosing in approximately 2-3 minutes and maintains an optimal particle size until inhalation. Faster dosing, without breathing resistance, supports shallow breathers and improves throughput of critical patients.
Ventilation kits come complete with a choice of scuba style Safety Shield™ Mouthpiece with protective cap or air cushioned face mask. Special kits for ventilator dependent patients are also available for this highly acclaimed system, designed exclusively for safety, reliability and performance. Free trial, training materials and Appropriate Use Criteria available.
NOTE: Aero/Vent™ Plus is such an exceptional product, a competitor made a low quality, knock-off kit. Operating out of Marquette, Michigan, it utilizes Medi/Nuclear's® lead shield but is substantially inferior to Aero/Vent™ Plus in safety, quality, performance and image quality so its use is considered risky and is not recommended. If you know of anyone with this product, please let us know and we'll gladly send a free trial of any genuine Medi'Nuclear® product.