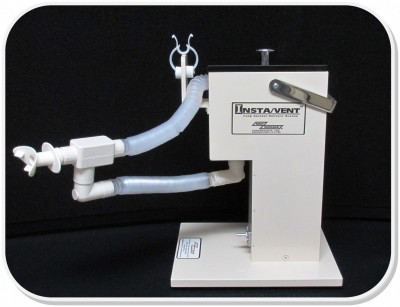 Insta/Vent Plus Radioaerosol Lung Imaging System #IV-600P
Click here to download complete Insta/Vent™ Plus information.
Insta/Vent™ Plus Product Overview
When it comes to ventilation lung scans, the highly acclaimed, Insta/Vent™ Plus Radioaerosol Administration System has it all! As an upgrade to the single tube Insta/Vent™, dosing can now be done in as little as 30 seconds and SPECT can be performed. Ultra-fine particles produced by Medi/Nuclear's® proprietary nebulizer virtually eliminate tracheal deposition and 'hot spots', and provide outstanding radiotracer distribution for images of unsurpassed quality.
Designed to support shallow breathers, Insta/Vent™ Plus's exclusive reservoir bag, internal air flow control mechanism, and unidirectional airflow allow every breath to be fully medicated for rapid dosing, virtually eliminates breathing resistance and maintains optimally sized particles until inhalation, thereby improving throughput of critical patients.
For convenience and safety, radioaerosol delivery kits come complete with a choice of scuba style Safety Shield™ Mouthpiece with protective cap, air cushioned face mask or specially made for ventilator dependent patients, and the HEPA filter is fully enclosed inside the shield. In addition to full lead lining, the Insta/Vent™ shield features additional lead protection around the nebulizer and a protective lead lined bracket in front of the mouthport opening.
As a leader in radioaerosol delivery, the Insta/Vent™ Plus Radioaerosol Delivery System is recommended by physicians, radiologists and nuclear technicians alike. Free trial, training materials and Appropriate Use Criteria (AUC) available.