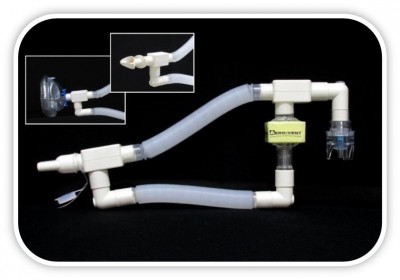 Aero/Vent Jr. Patient Interface Options
Aero/Vent™ Jr. Radioaerosol Kit

#AV-100H
Features and Benefits

Full patient dosing in less than 3 minutes.

Excellent 100k-150k count image in just 1 minute.

Unidirectional airflow allows every breath to be fully medicated for rapid delivery, virtually eliminates breathing resistance and maintains optimally sized particles until inhalation.

Ultra-fine particles with MMAD of 0.28µM virtually eliminates central airway deposition and allows deep lung deposition for exceptionally clear images.

Lead shield can be pole mounted or used on a table top.

HEPA filter with 99.9% trapping efficiency is contained inside the shield.


Tubing expands 6-24 inches for easy patient positioning upright or supine.

Radioaerosol kits come with choice of straight mouthpiece, scuba style Safety Shield™ Mouthpiece with protective cap or air cushioned face mask.

Special kits for ventilator dependent patients are available in a small case quantity of just 6 each.

Easy set-up and operation.

Activity required: 40 mCi in a minimum of 2 mL.
Specifications
Nebulizer: Medi/Nuclear® NEB-3A+ Jet Nebulizer
Nebulization Rate: 0.16 mL/min
Standard Flow Rate: 10 L/min
Max. Reservoir Volume: 6 mL
Working Reservoir Volume: 2 mL
MMAD: 0.28 micron
Particle Size Distribution: <0.2µM 40.8%
0.2µM to 1.0µM 57.1%
1.0µM to 5.0µM 2.1%
˃5.0µM 0
Filter: HEPA with 99.9% efficiency
Tubing: Flexible tubing expands from 6 to 24 inches
Patient Interface: Straight mouthpiece, Safety Shield™ Mouthpiece,
or air-cushioned face mask